Hey, guys!
It's been a while since my last post, and some of my subscribers have started mailing me and asking what happened and if I would have new posts.
I had three big things going on:
First, in March, I traveled across the world for the biggest affiliate meet-up in London, organized by StackThatMoney (STM).
Then, I spent three awesome weeks with my family back home in Slovakia, and I also managed some biz-related stuff as I'm still operating my affiliate business from the EU.
The rest of the time I was working my ass off on my campaigns.
…So my blog didn't get the attention that I would've liked to give it, but finally I'm back!
Want to learn more about
STM forum
and see how it looks inside?
STM London & private mastermind case study
I flew to London from Thailand to meet up with my fellow affiliates. It was my first ever international affiliate meet-up, so I was super excited and my expectations were really high.
I had been masterminding with two friends online, and we wanted to leverage our meet-up to the max.
So we had the following idea:
Rent out on Airbnb a cool flat within walking distance of the main meet-up venue and post a catchy thread on STM saying that we're looking for the fourth member of our mastermind.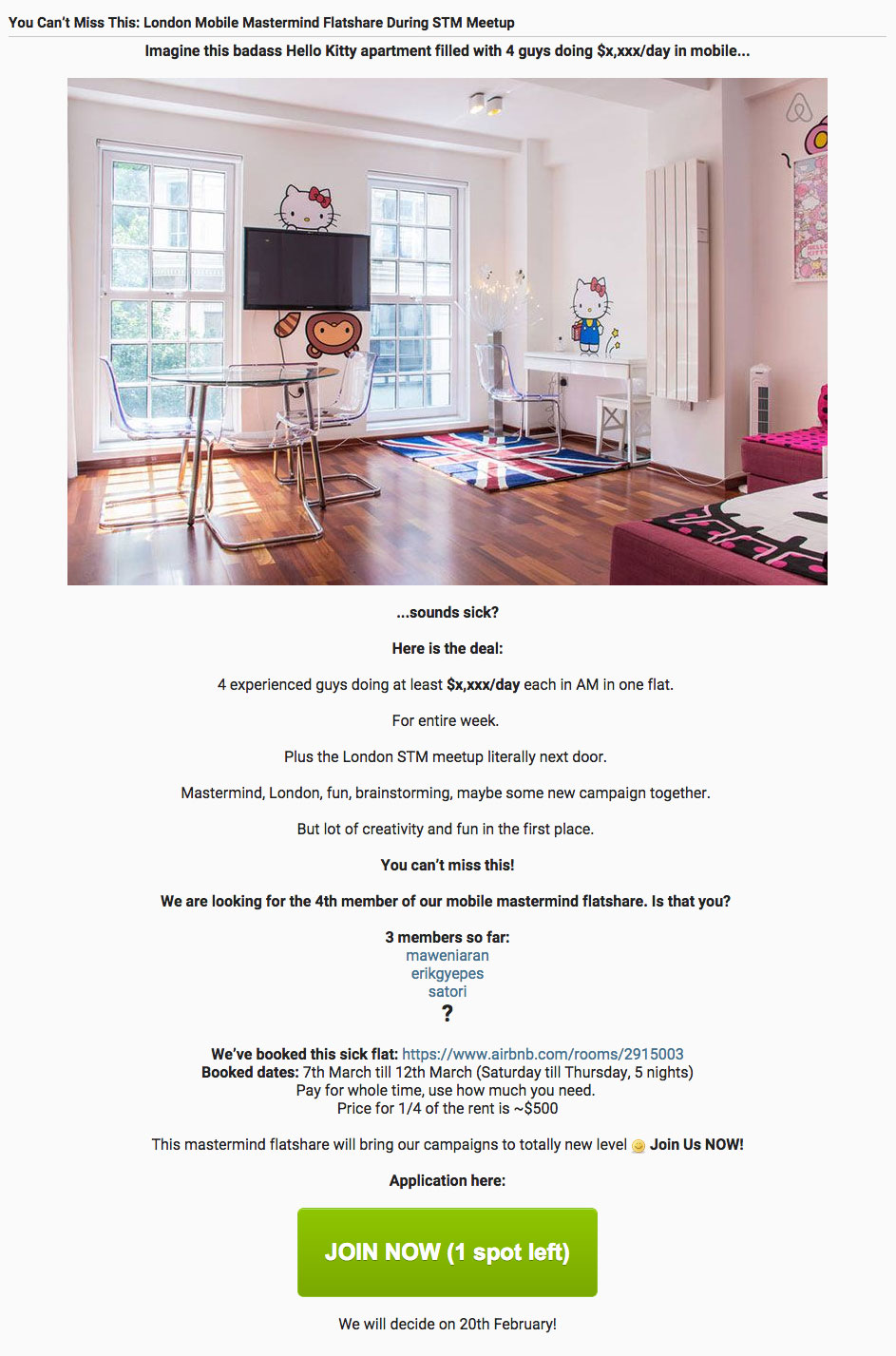 Our thread got over 1600 views, 33 responses, and 4 applicants.

The "conversion rate" might suck at first sight, but if you realize that all of the guys who applied were experienced and 75% of them were doing at least four figures a day, I think it was a really good catch!
Our team turned out to be really great, and from our first minutes together we felt like we had been friends for ages, so we really enjoyed London together.
Besides attending the official meet-up program, we also worked in our cool Hello Kitty flat.
Yes, you read it right.
We rented out a flat where everything, from the carpet and wallpaper to the mugs and beddings, was Hello Kitty–themed.
It may sound sick (and it actually is), but from the marketing perspective, everyone who had seen our thread immediately recognized us, calling us the Hello Kitty crew. Many of my affiliate managers joke about that till now.
Masterminding together face-to-face was a totally different experience from doing it on Skype. We were really pushing each other to work, and it was a lot more fun as well!
We shared everything, from landing pages and banners to network reports and offers. Each of us ran the same campaign, but on different traffic sources—from pops to banners. After initial tests, we compared our results and decided on our next steps.
The workflow was pretty fast, and in a very short time, we managed to have a campaign that did $xxx/day on different traffic sources.
Our offer got paused after two days and never got back. However, the main takeaway should be that masterminds are really powerful.
If you starting out as a newbie, definitely find one to two other guys and start collaborating together.
There is nothing to lose, but you can gain A LOT.
The meet-up
The actual STM meet-up was professionally organized, and one would not believe it was completely FREE for all STM members.
I liked the fact that it was only for affiliates, so there were (officially) no networks or traffic sources other than a few sponsors. That made the atmosphere more relaxed and the people more open.
It was also amazing to finally see some of the forum members in person. I realized again that affiliate marketing is a serious business, and it gave me a new perspective on the whole thing.
I also met some well-known affiliate bloggers and super affiliates, such as Charles Ngo, Finch, iAmAttila, FBQueen, Servando Silva and Cash Money Affiliate.
Quick personal updates
As I mentioned, the last four months have been pretty busy. Aside from a month of traveling, I launched a ton of new campaigns, discovered and tested a lot of new traffic sources, met a bunch of interesting people, and learned something new every day.
You know what? I enjoy being busy this way!
But don't worry. I do not forget my blog, and there will surely be more updates coming soon. If there is anything specific you would like to know, just leave me a comment or use the form on my contact page.
I am here to help you.
Conclusion
Meeting with affiliates is a really great way to learn more about the industry. If you treat affiliate marketing as a serious business, then such meet-ups are a must.
In-person masterminds are not something that you'd usually do, but if you have a chance, it's a great way to see and learn more about the workflow of other people.
Different perspectives + more knowledge = more money in your pocket
Tip: We are approaching the second half of the year. Do not forget to review the status of your new-year resolutions. We still have another six months to make them happen!
Have a great day!
Erik