Unless you've been living under some rock, you've probably heard a word or two about Bitcoin, blockchain technology, and cryptocurrencies.
If not, you should do some research, as you may be missing out on something big!
Introduction
If I don't count my first time shopping for Bitcoin in 2013 (I bought my first one for $72!), I personally got involved with cryptocurrency on a deeper level last year.
My involvement consists mainly of buying and holding (or, as it's called, HODLING).
It's a simple and easy investing strategy that has already multiplied my investment x times for this year.
I did some daily trades here and there, but I'm still not very comfortable there and I consider it much riskier than the simple BUY AND HOLD strategy.
…but back to the main question of this post:
Once you have a couple of currencies in your coin portfolio, the main problem becomes: how do you track your cryptocurrency portfolio?
I see this question asked in crypto-related Facebook groups and forums every single day.
Well, it's pretty understandable as the more types of coins you own, the more difficult it gets.
Why?
Imagine: you hold 20 cryptocurrencies on 3 different exchanges + your hardware wallets such as TREZOR. Add in some trades here and there and you may get lost pretty quickly:
What is the total value of my whole portfolio? (in either USD or BTC)
How much $$$ have I made holding this coin?
If I sell xx amount of this coin today, will it be a gain or loss for me?
These are just 3 of the many questions that you will have to ask yourself once you start rolling with cryptocurrencies.
For me, a performance marketer, tracking my profits and costs is really crucial.
Once I started dabbling with bitcoins and altcoins, I started seeking out a proper "tracker".
Ironically, before I even had my own hardware wallet, I just kept the numbers in my head.
I knew how much I deposited in the exchanges and how much I have now.
A bit of a crazy decision, but it was still easy to do some basic before/after math, right?
But as soon as I added 2 more exchanges and bought my hardware wallet, I was lost!
That was the moment when I started to look for a solution.
I tested several apps, such as Blockfolio on my phone and Mammon for the desktop.
I also gave web-based apps like CryptoCompare.com and Altpocket.io a try.
Each of these tools/apps had some positives and negatives, but none of them fulfilled my main requirement: AUTOMATION.
Whenever I did a transaction or trade, I had to insert each record MANUALLY if I wanted to keep track of it.
What I needed instead was something where I could do the following:
sync with my wallets and exchanges through APIs
see my daily/historical balances reports
see the current prices/values for each coin and my whole portfolio
monitor my gains and profits in real time
etc.
Meet CoinTracking.info

A couple of days ago, I discovered Cointracking.
CoinTracking is a centralized solution for tracking and managing your entire cryptocurrency portfolio.
It supports all the main coins like Bitcoin, Litecoin, Ethereum, and Ripple, as well as 4000+ other coins!
The best thing? Automatic API imports from exchanges!
What that means is that I no longer have to worry about entering all of my coins or trades manually. Never!
CoinTracking Features
Let's take a quick look at the features that CoinTracking offers, and let me show you my favorites:
Personal Analysis

Interactive charts for trades and coins
Calculation of key indicators
Profit/loss, coin value, & balances
Realized and unrealized gains

Trades

List of all trades and fees
Grouping by exchange
Interactive search
Comment function

Tax Declaration

Capital Gains Report
FIFO, LIFO, HIFO, and LOFO calculation
Prepared for accountants and tax offices
Variable parameters for all countries

Trade Importer

Easy CSV import from 26 exchanges
Automatic import via APIs
Export in Excel, PDF, CSV, XML, & JSON
Direct synchronization with the blockchain

Coin Charts and Analysis

Historical charts for all 4,739 coins
Always displays the latest prices for all coins
Top Coins by trades and by volume
Experimental Bitcoin forecasts

Functions and Security

Complete documentation
Email reports upon request
SSL certified & encrypted
No access to your exchanges required
As you can see, the list of features is really extensive — honestly, this is probably the best tool for tracking your portfolio that you will find on the market TODAY.
It's actively developed, and the support is very responsive and helpful as well.
My personal TOP 5 features of CoinTracking
I'm still discovering the real power that this tool, with its many options, has to offer, but there are 5 features that I've fallen in love with already:
1. Automatic imports via APIs
This is why I switched from half-built solutions like BlockFolio or CryptoCompare. Automatic imports are crucial for me.
All exchanges have APIs, so there is no reason to do things like this manually.
If you are a day-to-day trader with a high number of transactions, you must feel that pain!
CoinTracking supports all the major exchanges like Kraken, Bittrex, Bitstamp, Poloniex, GDAX, and a bunch of others.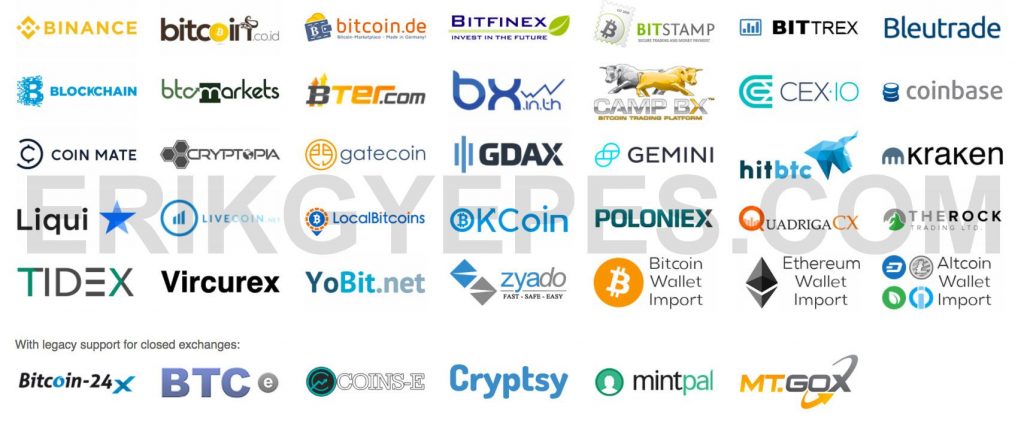 All you have to do is generate your API keys at the exchange and connect it to your CoinTracking account.
After that, all your transactions will be automatically synced on a daily basis. Boom!
What about security & privacy?
You may be asking: what about security? Will CoinTracking be able to do trades or even withdraw my money?
The answer is simple: NO!
It's not an issue at all, as when you generate your API keys, you have to assign READ-ONLY permissions to them.
With this, there's no way to do withdrawals for third parties.
If you care about your privacy (which you should!), you can create an account with CoinTracking without entering your email address.
2. Realized and Unrealized Gains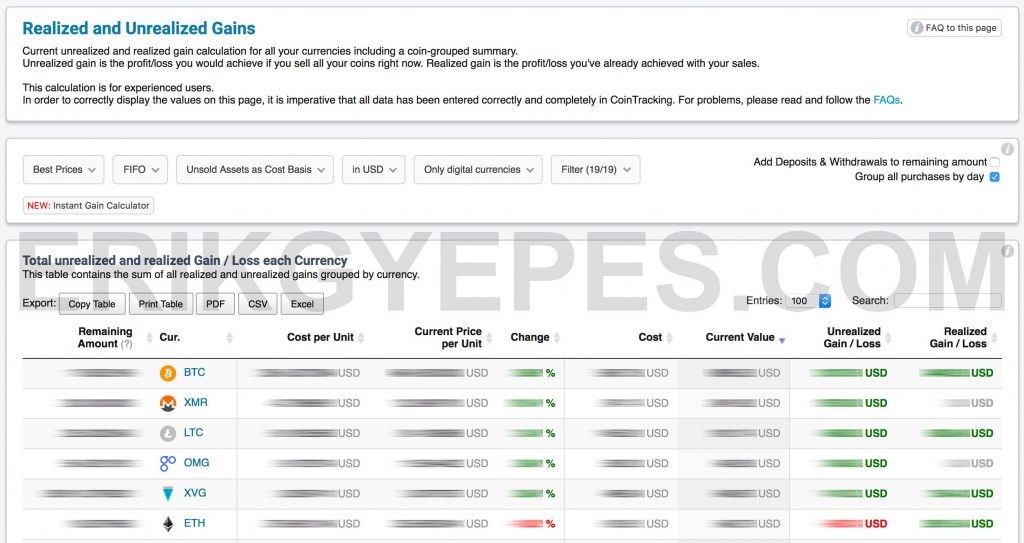 Imagine that you're already holding xx Bitcoins, yy Litecoins, and maybe xxx Monero.
Besides that, you have done some BUY and SELL transactions, all at different price points.
Then you decide that today, you maybe want to sell your Bitcoins, but you are not sure if you will have a PROFIT or LOSS at the end of the day.
Here comes the "Realized and Unrealized Gains" report:
You can exactly see where you are standing with each coin.
There is also a feature called "Instant Gain Calculator" that lets you enter how much of a particular currency you want to sell, and it breaks down your transactions so you will know if it's a profit or a loss before you sell.
3. Daily balance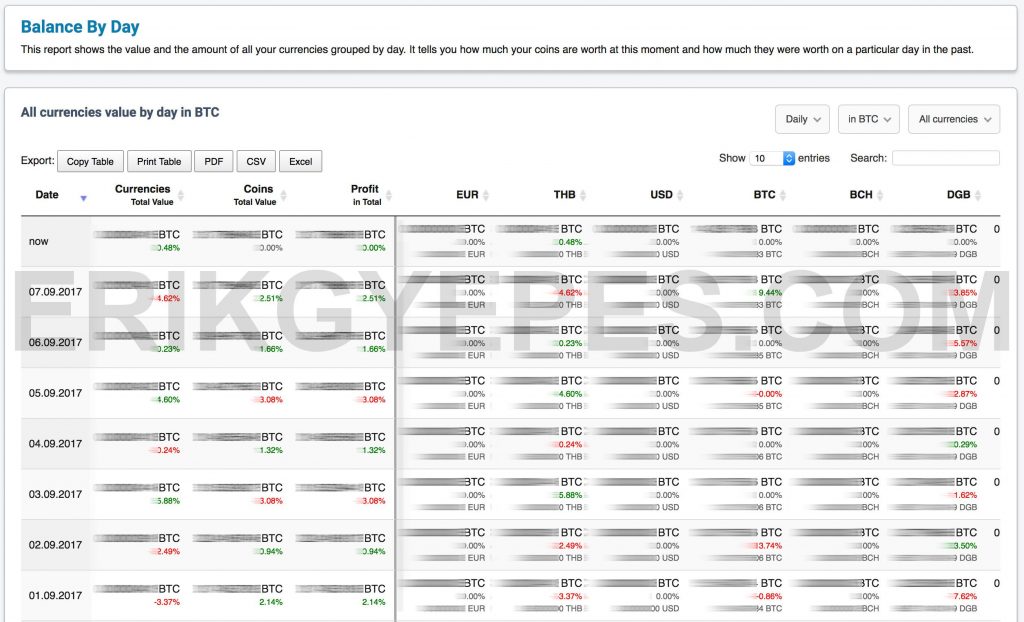 Daily balance shows a daily (or weekly/monthly) breakdown of your balance in both USD and BTC.
You can also see details for each currency you own, so you know what caused the gain or loss for that particular day.
CoinTracking can also send daily reports to your email, where it shows you where you stand each day and sums up how much your coin value increased or decreased.
4. Average Purchase Prices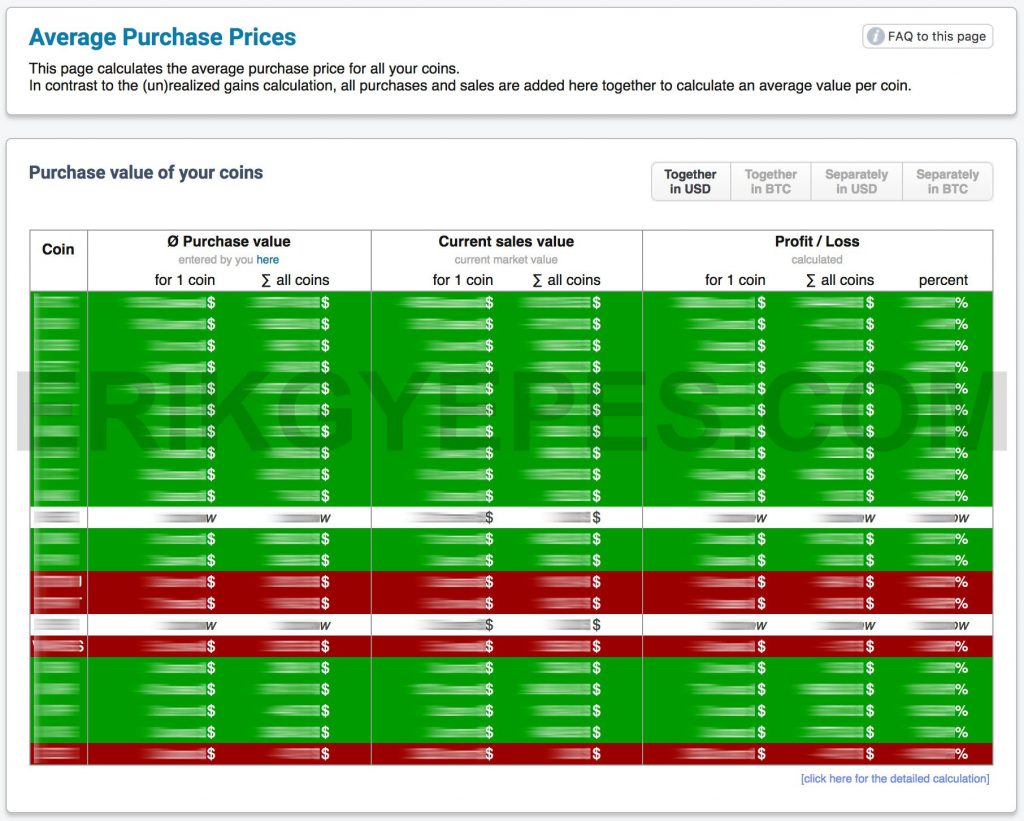 This is another way to see your current standing for each coin.
It displays a table that is divided into 3 parts:
Purchase value
Current sales value
Profit / Loss
In each part, you can see the price for 1 coin and the sum for all coins.
So you can see how much profit/loss you made per 1 coin and for a sum of all coins you have in that currency.
5. Fees

With each transaction on the blockchain and trades on exchanges, you are paying fees.
Fees are very small amounts compared to the values you are transferring, but over time they add up.
The Fees report shows you a handy overview of fees that you have paid.
You can even group them by exchanges, so you can easily see how much each exchange has cost you.
6. BONUS: Bitcoin Analysis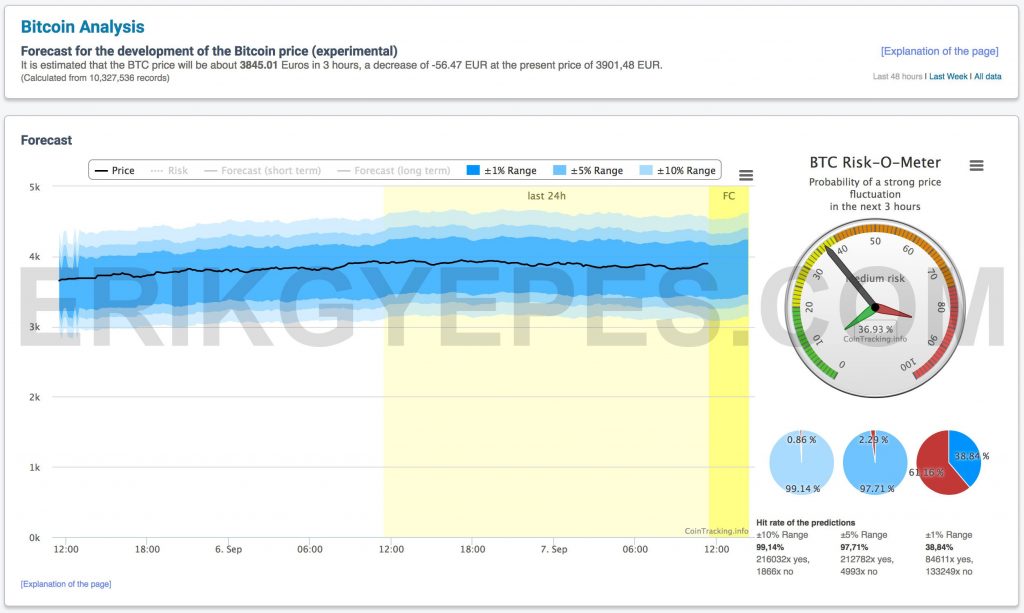 There is one interesting experimental report in CoinTracking called Bitcoin Analysis.
It tries to forecast the future price of Bitcoin.
They use several factors, such as past developments, trading volume, foreign exchange rates, time, day, and even Google Trends.
For example, at the moment of writing this post, the forecast says:
"It is estimated that the BTC price will be about 3776.84 Euros in 3 hours, a decrease of -57.48 EUR at the present price of 3834,32 EUR." (Note: they use EUR for this report at the moment.)
CoinTracking pricing
It's possible to use CoinTracking for free; however, the free version does not include its most powerful feature: automatic API imports.
CoinTracking is available with a FREE package for up to 200 trades.
The PRO package is limited to 3500 trades and it doesn't include features like prioritized caching, daily backups, or guaranteed access to all future updates. A 1-year license will cost you 0.03 BTC, a 2-year license costs 0.04 BTC, and a lifetime version is 0.08 BTC.
The third and most comprehensive package is UNLIMITED, and it includes unlimited trades and all features. A 1-year license will cost you 0.06 BTC, a 2-year license is 0.10 BTC, and a lifetime version is 0.44 BTC.
Note: please keep in mind that these prices will fluctuate over time as the USD/BTC value changes.
10% DISCOUNT
By using this referral link you will get 10% DISCOUNT for any paid package.
Wrap up
You will definitely be hearing more about blockchain and cryptocurrencies in the following months and years from the general public, so it makes sense to be ready before it happens.
If you already own some BTCs and are struggling with tracking your portfolio, I hope that today's post will help you and that you will appreciate CoinTracking like I have.
Let me know if you are also into crypto and what tools or resources on the interwebs you find useful.
Until next time.
Erik